List of products by brand Opinel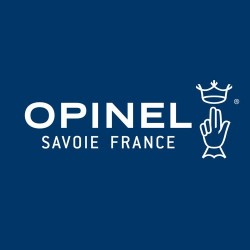 Joseph Opinel began making knives in 1890 in Savoie, France as a simple working man's or peasant's knife.
By 1909, Opinel had registered his first trademark for the Opinel knife, choosing the main couronnée ("crowned hand") as his emblem. A few years later Opinel annual sales were in the hundreds of thousands, and by the start of World War II as many as 20 million knives had been sold.
Opinel knives are made of both high carbon and stainless steel, the latter being the highest quality Sandvik steel from Sweden.


In 1985 the Victoria and Albert Museum in London selected the Opinel knife as part of an exhibit celebrating the "100 most beautiful products in the world", featuring the Opinel alongside the Porsche 911 sports car and the Rolex watch. The Opinel was also selected as one of the 999 classic designs in Phaidon Design Classics, and has been exhibited by the New York's Museum of Modern Art (MOMA) as a design masterpiece.