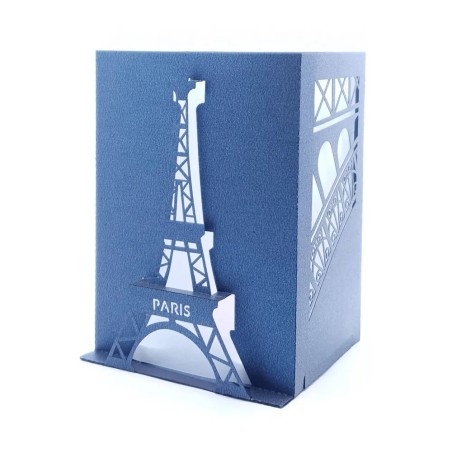  
Photophore Eiffel Tower To Assemble - Made in Paris
Designed and manufactured in the Pato workshop in the heart of Paris, a few hundred meters from the Bring France Home shop, the Eiffel Tower Photophore is easily assembled by folding.
The Eiffel Tower Photophore is awarded the "Made in Paris 2022" label by the City of Paris.
To be used with a 45 mm tealight candle. Although the Eiffel Tower Photophore is designed to be used with real candles, we recommend using it with LED candles.
Description
Assembly of the Eiffel Tower Photophore

1 Take the pop-up photophore out of its envelope and put the light diffuser aside (layer).

2 Folding the pop-up side (front)

Keeping your pattern flat, gently push and fold the dotted areas of the face containing the monument. Start from the bottom folds and work your way up to the top folds. Once the dotted areas are folded, you will uncover the pop-up monument by pulling the base of the photophore from the bottom up.

3 Folding the photophore

Fold the photophore into its final shape. Close the entire photophore with the tape and peel off the protective strip.
Fold the base of the pattern and slide the tabs into the notches on the sides from the outside.

4 Insert the diffuser (tracing paper) and that's it!
Now all you have to do is slide a 45 mm LED tealight candle into the heart of your photophore to see it light up!
Data sheet
Origin :

Paris

Height :

125mm

Lenght :

70mm

Depth :

90mm

Compositions :

Paper