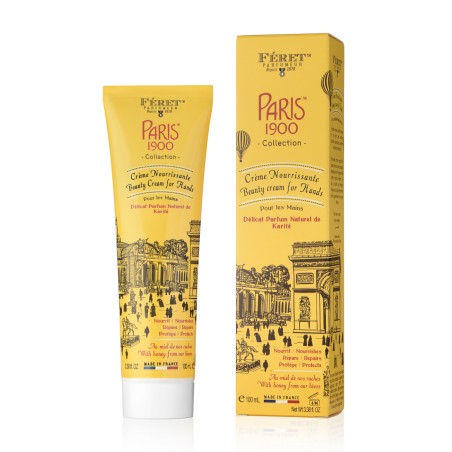  
Description
Honey is an excellent moisturizer, antioxidant and anti-aging, it protects the skin from UV rays and facilitates its regeneration. The formula of the hand cream is non-greasy, light and melting: the cream penetrates quickly

For men and women.
Directions for use : Apply this care by massage all day long.


98% of ingredients of natural origin
Water, glycerin and shea butter moisturize the skin's surface to protect it.
Sesame seed oil to soften the skin.
Emulsifiers that promote the homogeneity of the cream.
Humectants and emollients that provide a unique sensation to soften and smooth the skin while retaining water on its surface.
Aloe Vera leaf juice to deeply moisturize the skin.
Honey from Féret Parfumeur gardens.
Gelling agent for texture. Perfume. Preservatives to fight against bacteria.
Data sheet
Origin :

Bourg Charente

Capacity :

100 ml
Customers who bought this product also bought: