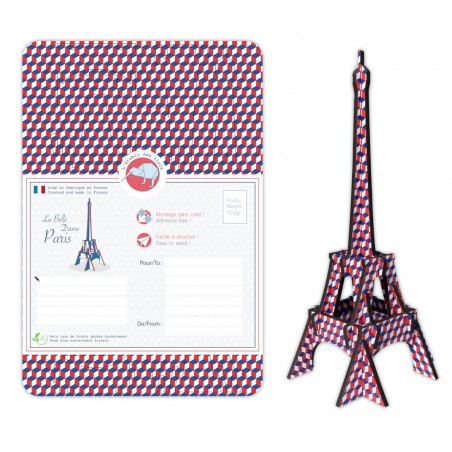  
DIY Eiffel Tower Blue White Red
A colourful and original postcard that will transform into an Eiffel Tower to build. Created and made in France with wood from sustainably managed forests.
Description
This colourful and original card will become your new favorite souvenir from Paris ! Made wih wood from sustainably managed forests and environment friendly ink, this laser cut card will be easily transformed into a beautiful Eiffel Tower.
The assembly is simple and without glue, as the individual parts are simply pushed together according to the supplied assembly plan. This card is ready to send, you will just need 2 stamps, and this is it.
Dimensions - Flat : 15 cm x 22 cm - Volume : 8,5 cm x 20 cm
Data sheet